If you ask me, one of the easiest ways to save money is to join online contests and blog giveaways (and hopefully win something)! So here's one
delicious
blog giveaway to join!
My blogger buddy, Shemah is having a blog giveaway over at her fashion and lifestyle blog,
The Accidental Fashionista
. She's giving away this gorgeous
Victoria's Secret Be Sweet Beauty Rush Lip Gloss Set
in 3 yummy flavours;
Cherry Bomb, Strawberry Fizz and Sugar Rush!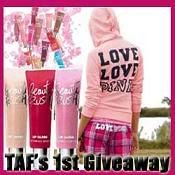 Everyone is welcome to join her giveaway, and here are the rules:
RULES:
1) This contest is open to everyone, anywhere around the world.
2) This contest starts today, Saturday, August 1, 2009 to Friday, August 14, 2009.
3) Multiple posts are allowed on single or multiple blogs, as long as you leave the right post links. The more posts you write, the more chances you'll get to win!
4) The winner will be picked using random.org.
5) The winner will be announced on Saturday, August 15, 2009 (Malaysian time, +8 GMT).
6) Contestants must link back to The Accidental Fashionista and have the giveaway badge on blog post/blog.
7) Please DO NOT COPY my post as part of your text, except for the rules. Otherwise, you will be disqualified.
These 3 lovely tubes of lip gloss will last me for months, and they're from Victoria's Secret, which cost $7 each. I'll be saving a lot if i win these. Please pick me, Miss Random.org! :)


First commenter gets kaching love!

Ane - Worldly Quirks